Women remain some of the biggest consumers in the market. In cannabis, however, they are still in the closet about their purchasing and consumption. The reason why, you may ask? Stigma. Hopefully, the U.S. Food & Drug Administration's recent efforts can change the stigma between cannabis and motherhood. This past week, the agency held a virtual conference on CBD and gender. As new regulations for the legal hemp market are required, the open conference could finally lead to breaking down that stigma and allowing more women to freely consume.
The meeting took place this past Thursday, streamed for free online. Four separate panels included researchers and health professionals hoping to highlight cannabinoid use and their effects based on gender and sex.
"Conditions for which CBD is often marketed, such as chronic pain, anxiety, depression, and sleep disturbances, are more prevalent in women than men. Therefore, consideration of issues pertaining to the safety of CBD products may be particularly important to address in women."

FDA's CBD and Other Cannabinoids: Sex and Gender Differences in Use and Responses
The conference and the panels' Q & A's promoted cannabis studies amongst the group with a focus on Cannabidiol. Ever since the 2018 Farm Bill legalized hemp, the FDA has developing regulations for the legal market. As a required stipulation of the bill, an update on CBD regulation has led the FDA to finally investigate the medical claims of cannabis as a whole. The studies are starting with the differing effects cannabis could have on different genders in a variety of scenarios.
"FDA recognizes the significant public interest in cannabis and cannabis-derived compounds, particularly CBD. However, there are many unanswered questions about the science, safety, and quality of products containing CBD… This public meeting will provide further insight into the scientific evidence suggesting the presence or absence of sex and gender differences in use and responses to CBD and other cannabinoids."

FDA's CBD and Other Cannabinoids: Sex and Gender Differences in Use and Responses
Motherhood with Cannabis
For some time, women have been thought to have a higher cannabis tolerance than men. The reasons haven't been nailed down quite yet; but, childbirth and women's pain tolerance are the usual additions to the conversation for clarity. Despite all of that, the majority of women shy away from cannabis use, publically at least.
Wine Moms, using alcohol to cope, is the joke of the decade. In reality, more mothers are using cannabis, not to cope but to be the best parent that they can be in addition to avoiding harmful medications. There's even products aimed at mothers. With all of the targeting of the demographic, how is it that the rest of society still pushes a false stigma on mothers who use cannabis and not mothers who drink?
State-legal cannabis has done some to alleviate the fear of judgment. Until cannabis is decriminalized and descheduled, however, the true fear comes from the doctors who deliver cannabis consuming-mother's babies. Other people's opinions mean very little compared to that of someone who can take your child away from you. Of the canna-mothers I spoke to, a wide majority was more concerned about a visit from CPS than they were with the world's thoughts on what they did in their free time.
Closet Cannabis Use and Motherhood
As of last year, more than 70% of women believe that there is "slight or no risk of harm to cannabis use during pregnancy". Anecdotal evidence of children being birthed from cannabis-consuming proves that. Logistically, the federal government needs more studies to solidify the claim. Still, another study shares that 69% of Colorado shops recommend cannabis for morning sickness to the alternative over-the-counter medications which are rumored to be ineffective in most cases. For many, some who have struggled with opioids and other addictions, those legal medications are simply not an option.
So, what is a mother to do? Smoke a little weed and consume something more natural to aid in relief? Or possibly bring harm on to their child and/or themselves for the sake of legality? The reality of the situation is stickier and more complicated than most anti-cannabis proponents would lead you to believe. The key to the problem and the Achilles Heel of the issue is choice. At the end of the day, people should be free to choose for themselves what is best for themselves and their children as long as there is no harm being brought to either.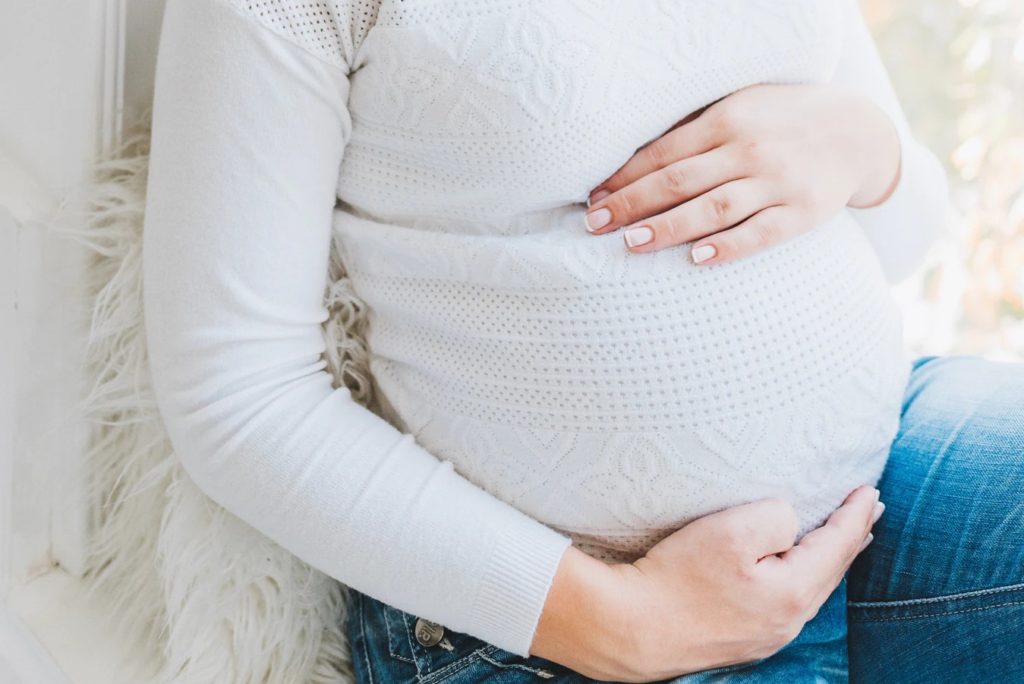 In the most recent study that I'm sharing, about 20% of pregnant women 24 and younger screened positive for cannabis. These 4women self-reported their use. Via drug-test, the number nearly doubled. Alternatively, the CDC reports 1 in 9 mothers drink while pregnant.
Alcohol, as we all know, has taken many lives and shattered even more. In this case, how is the wine-mom a normal occurrence but a weed-mom a bad example? Hopefully, the FDA will see the error in their own ways and those that push the Reefer Madness agenda almost 100 years later.
Weed-Moms and Wine-Moms
Luckily for the cannabis community and industry, the conference moderator acknowledged the missing scientific data to make any solid claims against cannabis use and motherhood. She urged researchers to consider sex and gender while investigating cannabis use as it can drastically change results. The biggest challenges that the FDA faces, according to the conference moderator, are as followed:
Logistics. CBD is everywhere: It's found in both medical products and end-use consumer products. "Some products like drugs, we have a clear regulatory authority and a pathway," Throckmorton said. "Others, there are questions that are outstanding that we're seeking to resolve."

Evolving legislation. The 2018 Farm Bill gave specific authority over the regulation of hemp and hemp production to the U.S. Department of Agriculture while removing it from the Controlled Substances Act, which is regulated by the U.S. Drug Enforcement Agency, but marijuana is still a controlled substance regulated by the DEA. The Farm Bill "explicitly retained" the FDA's authority over hemp-derived products under the Food, Drug and Cosmetic Act, so "all eyes switched to the FDA because the regulation of hemp products became a paramount interest to many parties," Throckmorton said. The FDA, in turn, began working on how to best regulate the space, understanding the strong public health interest in developing and marketing cannabis-derived products appropriately, Throckmorton said. Under the FDA's authority, he said, cannabis and its derived products are subject to the same authorities and requirements as FDA-regulated products containing any other substance.

Increased legality of cannabis. During the 2020 election, "there was expanded interest in the availability of cannabis-derived products in a number of states," Throckmorton said. Two states legalized medical marijuana and four states approved recreational use, accounting for a new total 35 states currently having some level of cannabis legality, according to Marijuana Business Daily.

Scientific uncertainty. There are too many unknowns about cannabinoids and the other compounds found in hemp, Throckmorton said, including:
Effects of cumulative and long-term human exposure.

Effects of CBD in susceptible populations, such as children, pregnant and lactating mothers and the elderly.

Reversibility of adverse nonclinical effects.

Pharmacologic issues, such as how CBD interacts with other drugs, toxicology of the substance and metabolic profiles across toxicology species.

Impact of excipients and fillers used in marketed CBD products on bioavailability, i.e. topicals, transdermal patches and smoking and vaping products.

Potential consequences of the use of CBD on the liver, male reproductive system and the central nervous system, based on published studies from the Epidiolex Development Program.
As far as regulating the cannabis market and allowing for accessibility without government intervention, there is much to do. At the very least, we can applaud the FDA for making some effort to address cannabis' differing effects on all consumers. Cannabis and motherhood is a topic that deserves more but, it remains unavailable until laws change. In the past the FDA has shared some of the Drug Enforcement Administration's outdated thoughts on cannabis. Regardless, the FDA still stood against the DEA on other cannabis topics. Let's hope 2021 brings a new leaf of understanding to both agencies.