Mississippi's second attempt to legalize medical cannabis passed the Senate this week. Since 2020, the southern state has been arguing the specifics of legal cannabis. However, it's to be expected from the South. States across the country have had their issues with legalization; southern states though have largely stayed out of the Green Rush as their mindset often aligns closer with Reefer Madness propaganda.
The bill fits southern standards, only allowing 1 gram per patient per day. It started at 3.5 grams per day; but, governor Tate Reeves has threatened to veto the bill causing numerous changes. The problems started last year when the bill was first introduced. Most remember it passing with a 71% approval on the ballot. Unfortunately, the state drew up a technicality with voter initiatives making the approval invalid. As a result, it was thrown out by the Supreme Court and a bid to legalize cannabis was forced to try again. Now, the biggest issue remains lawmakers' views on cannabis as a whole.
REEFER MADNESS VS. REALITY
The one thing Mississippi has taught us is that most pushback with cannabis comes from misinformation. Senator Kevin Blackwell led a "spirited debate" with bags of hemp to show exactly what cannabis weights look like. The odd faces and sniffs in the video are enough to show this is the first time some legislators have even seen cannabis in person. Governor Reeves seems to keep the madness alive, scaring citizens and colleagues into standing against legalization. His words are only described as colorful, which you can check out in this Facebook post he shared just three weeks ago.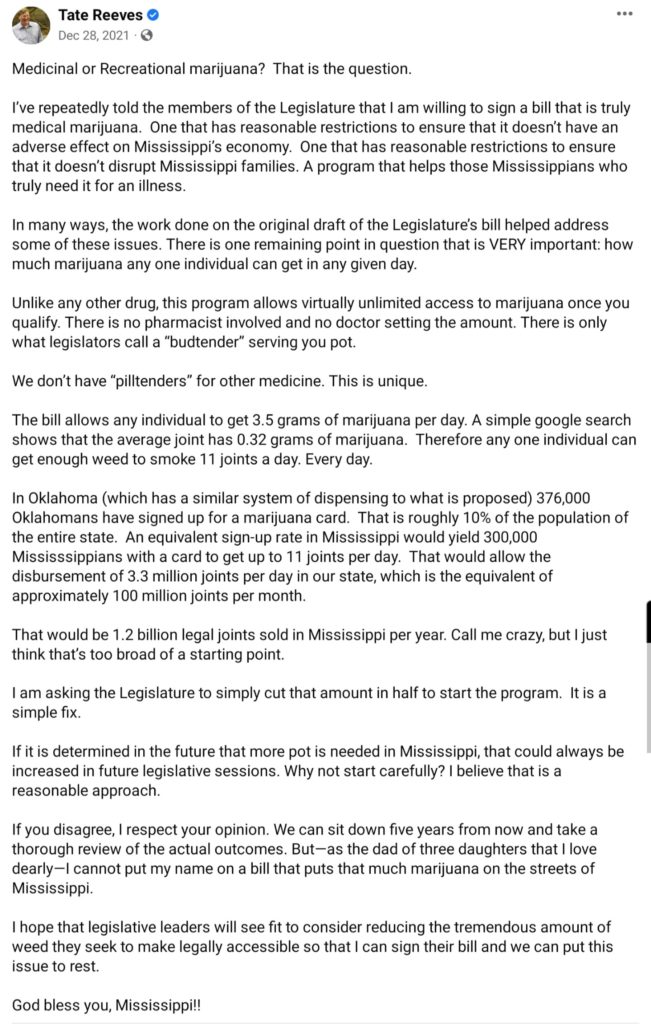 Many agreed that the visual representation and second opinion from Blackwell changed their minds, allowing the bill to pass 47-5.
"Everybody must get stoned.' You may recognize those lyrics from Bob Dylan. It's basically to draw attention to that almost hysterical paranoid reefer madness, Chicken Little belief expressed by a few skeptics that if we pass a medical cannabis bill, the streets of Mississippi will be flooded by pot smoking zombies, crime will explode, planes will fall from the sky and the world as we know it will simply come to an end. Some of you may share illogical beliefs, but they're simply not true."

Senator Kevin Blackwell during Thursday's debate via WLBT
The bill has to make it through the House once more to officially legalize medical cannabis. There is only one hurdle left but, considering the issues Mississippi foresees with a legal industry, removing voters' choice in the matter may be its Achilles' heel.