Las Vegas is known for a lot; but, art isn't really one of those things. Entertainment is on every corner and the Strip reigns supreme but there's an entire movement just a few miles north. Cropping up like a weed through neon stone, the local art community has fought through the last few years to reinvent itself today. Oddly enough, most don't even know it exists.
Dubbed "the least Vegas neighborhood in Vegas", this 16-square block area is reminiscent of a college town but embodies everything that the Las Vegas Art community truly is.
There are farmers' markets stuffed down alleys. Themed-dive bars line the streets and art drips from the buildings. Locals love it but tourists pass it by. The Las Vegas Arts District and Fremont area foster a community of artists, small businesses, and a culture that has been preserved for decades. Within this neighborhood is a culture as strong as the one in cannabis. As they both intertwine through media and social movements, let's celebrate the flip side of our favorite plant.
DAZED FLOW ARTISTRY
Cannabis activists and consumers come from all walks of life and the Arts happen to be a big one, but we're beyond just the basic tie-dye of the 60s though. Since its era of resurgence, cannabis has found its way down every avenue where ambition will roll it. Some of the artists that propel that are Monica & Elias, owners of Dazed Flow Artistry. Like most in the cannabis community, their past with cannabis starts young. Monica's family was always comfortable with cannabis consumption. That extends to her early career in the medical cannabis industry.
The Las Vegas natives only recently got involved in the Art community bringing their love and appreciation for cannabis along with them.
The couple specializes in psychedelic art meant to add a little light and color to your walls! The two always had a shared interest in the art and dove into the hobby in the last few years. At a younger age, Monica consumed cannabis to cope with anxiety. It inspired her creatively while calming the symptoms. As their trippy venture continued, the two wished to help others find the same zen that cannabis and art have brought into their lives.
"Art doesn't need to look a certain way or be 'perfect'. It just needs to flow and feel good for you and no one else."
ZENNED-OUT ART
Essentially, zen means to concentrate or meditate. As a lifestyle, it's much more about the nature of the mind and its correlation to the nature of things. For many, it's the muse that marries cannabis and art. For Dazedflowartistry, it's the foundation of their work.
Back in 2019, the couple started sharing that feeling of zen, leading to the creation of their psychedelic art. Monica and Elias created small abstract pieces together, helping them both realize the power of artistry.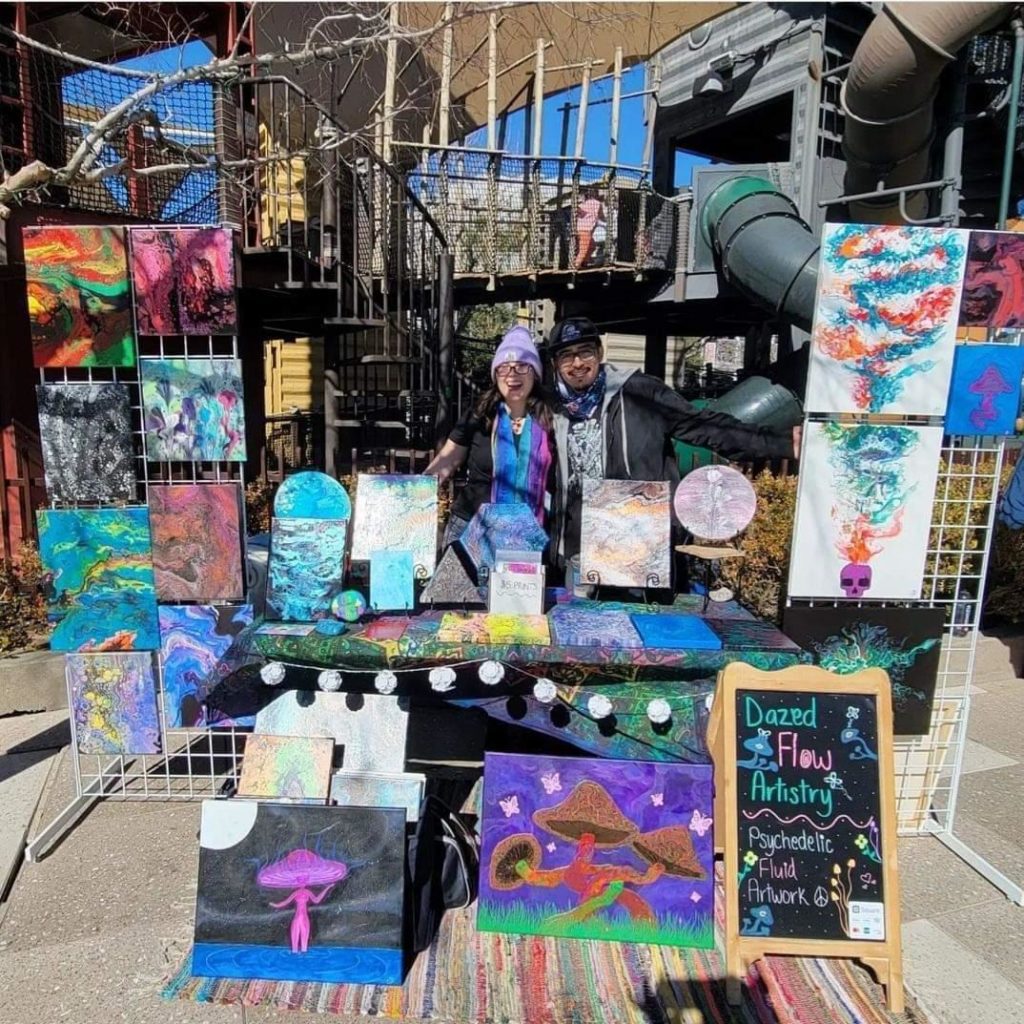 "We want to inspire people along the way to create art [and] express themselves. Overall, we want to get people on board with supporting small businesses over corporations. Together we can create a beautiful community supporting each other in our creative endeavors."
As people grew interested, they grew their hobby into a business. Dazed Flow Artistry was born. Monica recounts all the colorful and creative people she has met since starting this small business journey. More so, the amount of support in the community has been one of the most beautiful parts.
Monica and Elias are just one of many stories. Some come from cannabis roots and others don't. The thing we do have in common, however, is our love for the peace of others.
You can find Dazed Flow Artistry on Instagram and Etsy. You can find them locally at a variety of events. Follow them for more.